Behind the Company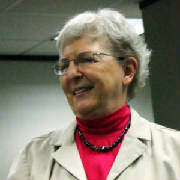 Carol Holtzman Cespedes, Ph.D., President
In 1986 Carol Cespedes founded Halintours. Carol and her husband Benny had just moved to Costa Rica, thinking to retire after seven years of work in the oil industry of Saudi Arabia. Unwilling to be idle, Carol decided to start a tour company to promote travel to this small Central American country that in those days was suffering from a severe slump in tourism. She named the company after her two daughters, Hali and Insa, and took it with her, incorporating the business in Texas, after she and Benny returned to reside in the U.S.
Carol has a Ph.D. in Asian Studies and a background in college teaching and the administration of nonprofits. She finds that tourism is a multifaceted activity, calling upon all of her experience and talents. Today she takes time to write, travel, and volunteer with civic organizations, but she still continues to guide the company and train the fine young tourism professionals who are bringing a fresh look to Halintours. She personally escorts many of the Halintours groups and does presentations on all of the destinations using the rich stock of travel slides provided by her photographer husband, Benny.
Our Partners
Much as we love traveling and escorting our friends and clients on their trips, we can't do it by ourselves! Halintours maintains quality through a careful choice of partners in each country where we operate.
In the heartland of Costa Rica we are proud of our long relationship with one of the best guides in the country, Enrique Dodero, who is owner and operator of a licensed Costa Rica tour company, Turismo Personalizado.
On the Osa Peninsula we have a partnership with Liz Jones and Abraham Gallo of Bosque del Rio Tigre. Lodge owners and environmental activists, Liz and Abraham are a talented and dedicated couple who offer some of the best birding opportunities in Central America.
And we have many more relationships with lodge and hotel owners, guides, drivers, and tour operators who reflect the standards of Halintours. Our network of personal friendship guarantees that when you travel with Halintours, you will be treated as an honored guest.